Ashampoo Backup Pro 12: Looking for a handy but powerful backup solution? Ashampoo® Backup Pro 12 protects you from viruses, ransomware and Windows errors!
The new Ashampoo Backup Pro 12 offers you various options to back up individual files or entire disk partitions on any media or cloud.
Everything happens in the background and the program is light on system resources. Even in the event of a system failure, the integrated emergency solution can restore your system!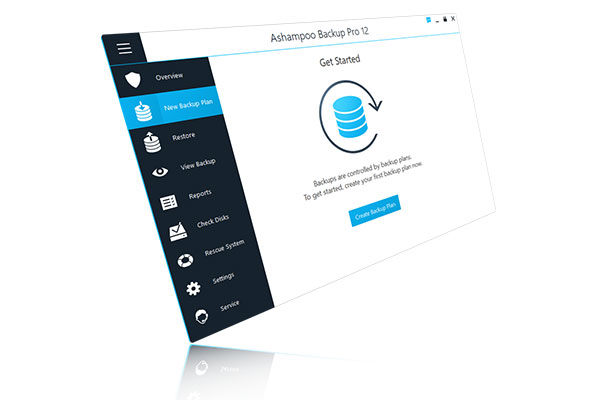 Success with just a few clicks
A backup solution for beginners - with professional results!
Ashampoo Backup Pro 12 does not require prior knowledge. Sophisticated backups can be created with very few steps! Several assistants are available for all program settings and the various defaults cover all common usage cases such as email backups, browsers, or contacts.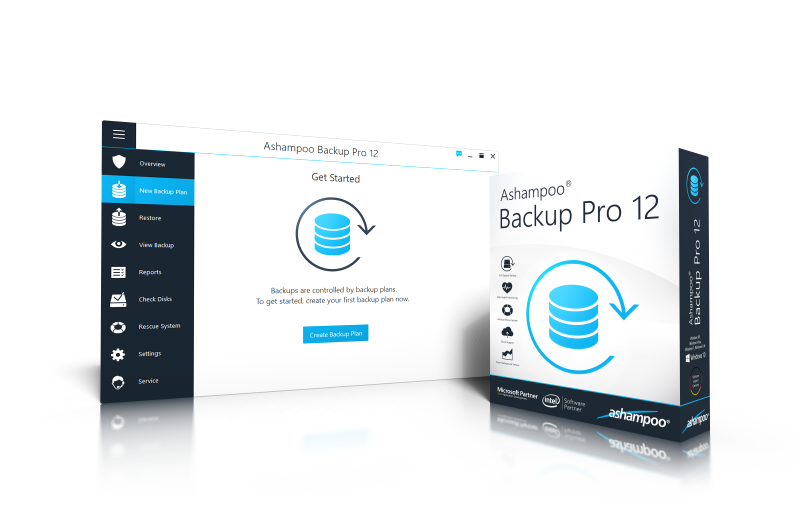 A backup solution for everyone!
| | |
| --- | --- |
| | Powerful disk control for 100% reliable backups |
| | Back up and restore entire Windows systems |
| | Backup light: Direct access to backup files |
| | Support for OneDrive Business / Office, Owncloud and Nextcloud |
| | Your rescue against the ransomware |
| | New and easy to understand user interface |
| | Well structured and clear design |
| | Easy-to-use rescue system with UEFI support |
| | New system restore tool |
Now with disk health inspection
Recognize and fix disk errors
Disk failure can ruin your backups! This is why Backup Pro 12 supports disk health checks including SMART data! This allows the program to warn you of impending unit failure and gives you time to act before something bad happens! Additional detailed drives and partition scans detect corrupt data blocks and move infected files to retain your data. Internal or external - the new hard disk diagnostics feature ensures that your data always stays safe!
Direct access to files with the Backup Projector
Easily view and open archives from backup
For security copies to be useful, they must be easily accessible and useful. That's why Ashampoo Backup Pro 12 provides with a dedicated projector access to your files without having to restore them first. Access to files occurs in a secure file to avoid unwanted modifications and to maintain the safety of your copies!
New review and user manipulation
Clean, sensible, beautiful: the new face of Ashampoo® Backup Pro
Ashampoo® Backup Pro contains a completely redesigned user interface to make it easier for you to work while driving in the next steps with the help of drivers. A backup solution to sit, work and work smart! You do not require any prior technical knowledge.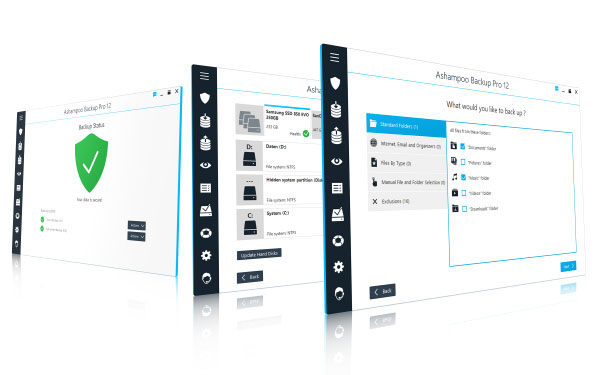 Automatically secure
Once enabled, your backups will always be up to date
The Ashampoo® Backup Pro can create backups fully automatically in the background. Once activated, you no longer have to do something! And backup processes stop automatically to avoid delays when you need the full power of your computer!

Easily backups in the cloud
Save backups online
Flexibility is everything in the new Ashampoo® Backup Pro 12. So there is no longer a limit to the number of supported cloud service providers! Another welcome addition is support for OneDrive Business / Office 365, Owncloud and Nextcloud. Now, you can work independently of your local storage devices! This does not only apply to regular files, but also includes entire backups of drives! Dropbox, Deutsche Telekom, Google Drive, OneDrive, Strato, 1 & 1 and many more are fully supported.

Ashampoo Backup Pro 12 Flexible data recovery
Separate files, entire partitions, or system restore
The choice is yours: extract separate files from backups using virtual drives or to restore whole drives! If all else fails, the built-in rescue disk or stroller will help you restore your computer. Only this you need to re-run Windows!

Ashampoo Backup Pro 12 The treatment for ransomware and viruses
No need to reinstall - the solution against malware
Ransomware takes your computer as a hostage and encrypts your personal data. Viruses destroy entire systems and take control of your computer. Ashampoo® Backup Pro can prevent these difficult situations with ease! Just restore your system to a previous state and you're done!

Ashampoo Backup Pro 12 No fear anymore for updates
There will be errors - but not on your computer!
System updates are important but often flawed. In the worst case, a Windows update has so many errors that it shuts down your computer or causes data loss. It's one of those moments where we say "Yesterday, everything worked fine!" - and it is in this state of the files that Ashampoo® Backup Pro 12 will return you! No need to worry about security software or Windows updates anymore, you are safe now!
Ashampoo Backup Pro 12 Manually backed up? Not anymore!
Smart backup mechanism for uninterrupted work
Many competing products require you to turn on the manual backup process, and when activated, the process will often cause a noticeable slowdown in the system. This is not the case with Ashampoo® Backup Pro 12! You will not notice anything when the program performs scheduled backups. It is a continuous process that takes place in the background without disturbing your work! Ashampoo® Backup Pro 12 continuously analyzes your processor load and activates only when there are enough processing resources. It's like an invisible assistant doing work in the background!
The first six (6) who will post a comment on this post (not on social) will receive a license in the email they will give to make their comment.
Permits will be sent as soon as the 6 comments are completed.
___________________________________