The smartphones και τα tablets έχουν μπει για τα καλά στις ζωές μας και έχουν τέτοιες δυνατότητες ώστε πολλοί από εμάς, να μην χρειάζεται να χρησιμοποιήσουμε ηλεκτρονικό υπολογιστή πλέον. Μπορεί κανείς να κάνει απευθείας οτιδήποτε, με ένα άγγιγμα.
There is no reason to go into analysis of what has led to this explosion in the smartphone and tablet market, some of which are simply usability and speed. I just said speed and on this we will stop and say some tips so that through a few actions you can make your old and new android smartphone breathe.
Surely all android smartphone users have heard the term "root". So what is this "root"?
The term "root", which in English means "root", comes from the Unix environment, which derives from both Linux and Mac, as well as android με το οποίο θα ασχοληθούμε και σημαίνει την αρχή του file system. Με τον όρο "Root access" θέλουμε να πούμε, πως ο απλός χρήστης θα έχει πρόσβαση διαχειριστή στο file system.
Why Do One Root?
Περισσότερες εφαρμογές. Πολλές εφαρμογές πλέον, ζητάνε root access για να τις χρησιμοποιήσει κάποιος στο 100%.
Most of all, clear all garbage pre-installed by the manufacturer.
Why not make Root?
The most important thing is that you lose the guarantee.
You do it at your own risk, no one guarantees that the process will go right. Although the way we show below is automated and there is no danger, there is no risk.
How does Root work?
There are many ways to "root" a smartphone. The one I suggest is obviously tested, "sure" (and I put it in quotes because no one is going to guarantee 100% operation) and fast. And most importantly, it is done with one click, both the "root" and the "unroot" of the device. So what we said with the warranty is not true! If something happens, the reset again with a click on the primary state.
All you need to do is install on your computer Kingo Root. And very basic, to check if your device is in list της εταιρίας για root access.
Before you start, make sure of the following:
The device is on.
It is charged at a level of at least 50%.
The computer is connected to the internet.
And for the connection of the smartphone to the computer, the original cable provided by the manufacturer is recommended.
Once you install the application on your computer, instructions will appear on what settings you need to make on your smartphone depending on what android version you have to start "root".
Application for cleaning after Root.
After the process is completed successfully and your program displays on the computer screen how the root was successfully done and the installation of the superuser is completed, then we need to install an application from Google Play with which we can delete, permanently or not, anything we do not need on the cell phone and before we could not. A good application for this purpose is App Master. Μόλις την εγκαταστήσετε απο το Google Play θα σας ζητήσει root access. Απλά πατήστε "Χορήγησε" και είστε έτοιμοι για ξεκαθάρισμα.
Advice: Do not permanently erase any application of the device or manufacturer, but drive them to the App Master bucket, so if you ever need it or make a mistake, restore it.
Application testing and privacy.
Όλοι μας έχουμε θορυβηθεί τα τελευταία χρόνια με την εκροή προσωπικών δεδομένων μέσω των smartphones, παρακάτω θα εξηγήσουμε ένα tip (το οποίο χρειάζεται root access) στο πως να ελέγχουμε ανα πάσα στιγμή κάθε εφαρμογή που έχουμε εγκαταστήσει στο smartphone μας και τι πρωτοβουλίες είναι προγραμματισμένη να παίρνει, απαγορεύοντας την, ή αφήνοντάς την! Είμαστε εμείς αυτοί που αποφασίζουμε και όχι αυτόβουλα η εφαρμογή και το smartphone!
The application is none other than the one known to all of us by the desktop, Commodo "Mobile" Security. Comodo has made an enviable job for fixed and laptop computers and has not even surprised us on android mobile phones.
The use of Comodo Mobile Security itself does not require "root", but the specific function I described above requires it.
Below is the implementation environment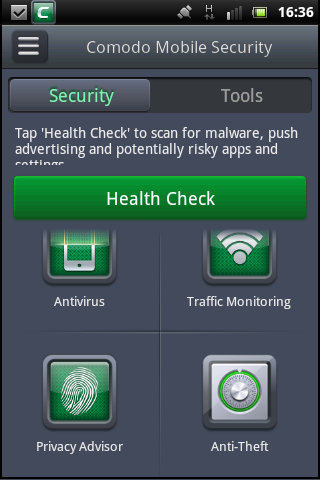 Αυτό που μας ενδιαφέρει είναι το Privacy Advisor και οι λειτουργίες του. Όταν πατήσουμε πάνω πρώτη φορά, προειδοποιεί τον χρήστη πως η συγκεκριμένη λειτουργία απαιτεί "root access". Όπως φαίνεται στην επόμενη εικόνα.
When pressed to activate, it will green and will shut down all applications installed on both smartphones and system files and will classify them as shown below.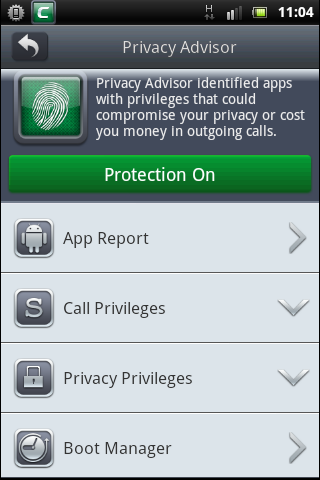 The ranking is based on the initiatives that each application takes, eg use of the common geographical location, charges from the connection, etc. Something that can be avoided using this feature is the following, applications such as Viber, say, voluntarily, if they do not find an internet connection, or if the signal is weak, they send the message via sms, as a result of which they charge the user (this is also deactivated via Viber, of course). Ή uses the 3G connection again voluntarily, charging the user if he does not have an activated package.
By clicking on each group, we are given options with what to allow and what not in each application.
Apps for Cache Cleaning on Android.
By cache, we mean the memory space that is currently occupied by data, which can be used immediately. What does this mean; Say we use an application on our mobile, do what we have to do and close it by simply pressing the "back" button repeatedly. The device automatically stores data in memory, in case we want to use it later. The positive is that it will open faster the next and the negative, that we keep the memory locked even if we reuse it several days later. How can we clear the cache to be exploited by applications that we use more often?
A good program for this purpose is it CCleaner for Mobile. (There is CCleaner for desktop).
You do not need root, after installation simply skans and cleaning.
Attention, this particular also scans sms and calls. Choose not to clean these ones.
Another application is Assistant for Android, which also serves the same purpose and is worth what it is programmed to do, nor does this application require "root".
Join!
---
Read them Technology News from all over the world, with the validity of iGuRu.gr
Follow us on Google News
---