Ashampoo Burning Studio 20 earn 6 licenses
Ashampoo Burning Studio 20: Register, back up, copy and convert with the best recording software of all time
Get the best subscription program! The new Ashampoo Burning Studio 20 is the easiest solution to record your data on CDs, DVDs and Blu-ray discs, copy discs or use extensive media recording capabilities to create your own views and animated video clips.
Copy your audio CDs automatically, back up your files, and plan and print separate covers for your projects! Ensure your files with scratch-proof data loss and use encryption and password protection for maximum security. Experience the best Burning Studio never created!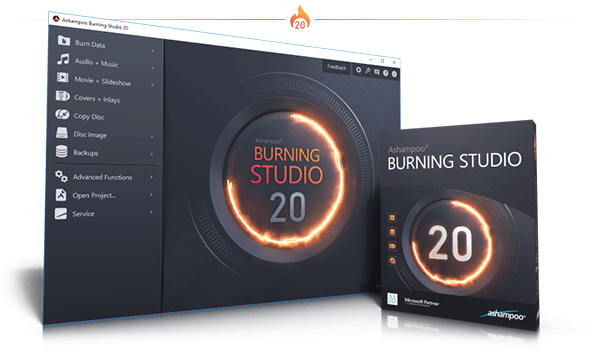 A general plan for your backups
The popular backup feature just became more powerful. Backup plans help you back up your data and even remind you when you need to back up! The new enhanced backup manager provides a quick view of existing backups and supports instant updates.
It could not have been easier! Are you worried that your data will not fit into a disk? No problem, thanks to disk expansion, Burning Studio can place your data on multiple drives automatically, including password protection!
| | |
| --- | --- |
| | Smart backup plans for reliable data replication |
| | Reminder function for backup plans |
| | New intuitive processor for covers and inserts |
| | Multimedia CD player simulator support |
| | Ready presets for over 1.600 car radios |
| | Bright user interface with high contrast |
| | Many special cases supported in the car radio unit |
| | Enhanced disc burning options |
| | Optimized workflow for fewer clicks and standby times |
| | Easier disk image creation |
| | Automatic disk expansion for unlimited storage capacity |
| | Compact Flash (CF) card support and microdisks |
Beautiful covers and inserts
Covers have always been a powerful spot in Burning Studio. In 20, this section was redesigned! Your new intuitive startup menu goes in the right direction and helps you instantly select your favorite images. After that, step by step you will reach the final cover. The import function helps you analyze your disk and automatically download the required metadata from the internet and create a playlist if needed. You can of course make a cover fast or plan your own from the beginning. You will not be disappointed!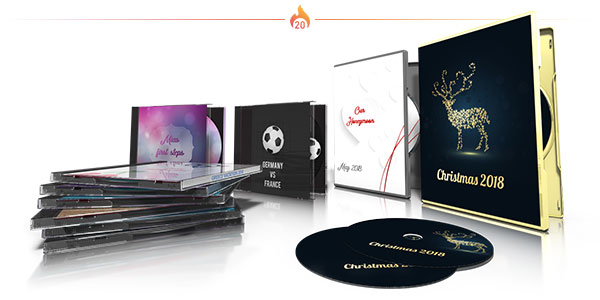 Yes, disc burning can be so simple!
Many users are surprised when they first use Burning Studio. Is it so easy? Yes, it takes only three steps.
Select your files, select the edit method and select the target. Do you need a moving menu for your video? It only takes a few clicks. Do you want to back up your photo gallery to multiple discs? With Ashampoo Burning Studio 20, each of you can do it!

Design and create your own movies and presentations
With Burning Studio 20, there is no limit to what you can do! Cut your movies, add imports and end credits, or enter subtitles or finished themes with professional results. Impress your friends and family with amazing presentations with background music and turn your precious memories into a visual masterpiece. Design individual covers for your audio CDs and use exciting mosaic mode or many templates. Family celebration, work or holiday, with Ashampoo Burning Studio 20, the results are guaranteed!

The fast and comfortable route to success
The new Ashampoo Burning Studio 20 respects your workflow. Instead of countless menu inserts that require dozens of clicks, Burning Studio provides instantly accessible solutions. Do you need extremely fast results with minimal adjustment requirements? Ashampoo Burning Studio 20 is the program for you. Smart Auto Functions and carefully selected presets handle difficult work, and meticulously designed visuals do not make you feel tired. On the subject of dark and high contrast, maximum readability is guaranteed for everyone!

Rip music discs and record audio files
The intelligent disc ripping feature in Ashampoo Burning Studio 20 extracts disc audio in minutes! Artist and genre are automatically recognized. Convert audio CDs to high quality audio files and choose from a variety of different formats! Of course, you can then convert your files to music discs, along with equalizer and volume settings for a better audio experience and add your own coverage plans. Sounds good; They are!

Maximum safety with scratch protection
Proven anti-scratch technology ensures that your data remains secure. Scratches can make the surfaces of the disc unreadable and the files irreparable. Ashampoo Burning Studio 20 spreads multiple copies of your data across the disk along with an Emergency Reset tool! This way, you can still retrieve your valuable files and memories if the disk is scratched in the future.

Ashampoo Burning Studio 20 The easiest video editor on the market
When time is of the essence, it only takes a few clicks to combine images and videos with the right music to make movies. You do not need to navigate the menu for a long time and nothing extra is required on your part. If necessary, you can manually adjust the image transitions and see the durations for this extra track you are editing - otherwise it 's an extra click and you're done!

Secure multiple-use recording
Burning Studio 20 offers versatility even with simple tasks such as writing data to CD, DVD or Blu-ray. Disk Expansion shares the data on multiple disks, autoplay disks support separate drawings and menus, while encrypted discs are password protected for maximum security. Disk copying is easy and supports direct modifications. The new scratch protection ensures that your valuable data remains readable even with corrupted disc surfaces and improved disc burning dialogue gives you the best results faster!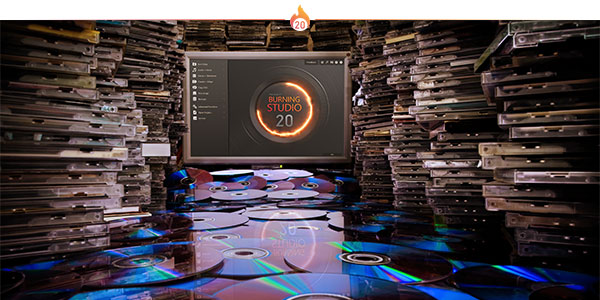 Ashampoo Burning Studio 20 The right format for each movie
Creating and recording movies is one of the powerful features of Ashampoo Burning Studio 20. For films to be compatible with market players, they must be converted to the appropriate format. Your Burning Studio is covered with MPEG4, H.264 and AAC along with audio formats such as MP3, WMA, OGG and more. Register from simple mobile phone subscriptions to ambitious amateur movies in style with Burning Studio 20!
Version: 20.0.1
Release date: 2018/12/10
Price: EUR 49.99, USD 49.99, 39.99, 59.99, 59.99, 379.00, 59.99, 149.99, 2699.00, 199.99, 129.99, 489.00, 69.99, 799.00, 699.00, 1599.00, 499.00, 15500.00, 389.00 429.00 XNUMX XNUMX XNUMX XNUMX , HUF XNUMX, DKK XNUMX, NOK XNUMX
Trial period: 30 days (10 days + 20 days after sign-up by email)
Languages: English, Arabic, Vietnamese, Bulgarian, British English, French, German, Danish, Danish, ΕλληνικάSpanish, Italian, Catalan, Chinese (simplified), Chinese (traditional), Latvian, Norwegian Norwegian, Norwegian, Hungarian, Polish, Portuguese, Portuguese, Slovak, Slovenian, Swedish, Turkish, Czech, Finnish
Size: 169,04 MB, 173.097 KB, 177.251.287 B
Giveaway
IGuRu.gr has for you 6 licenses of the Ashampoo Burning Studio 20 application.
The first 6 who will comment on this post (not on social media) and send an e-mail to info [at] iguru.gr will receive a license. Attention are two different actions: COMMENT + E-MAIL.
The contest is valid for our readers in Greece and Cyprus.
You will receive your gifts on the evening of December 12th.
______________________
---
Read them Technology News from all over the world, with the validity of iGuRu.gr
Follow us on Google News
---